Even if I haven't had time over the past few weeks to come up with any posts about food sustainability or the diet-health connection, I have been nursing a couple of creative endeavors in the kitchen. Or, partially in the kitchen anyway. Partially in the bar. The best part, I think, is that what I came up with can be tweaked into mocktails if you don't drink alcohol.
First up: A Tribute Drink
I created this one in honor of our neighbors who are moving away – there's an annual, early-summer Lobster Fest event we've all been going to for I-don't-even-know-how-many years, and this year's was to be the last of the tradition, so, of course, I reasoned that it was only fitting that there be a send-off cocktail. I named it for them, but since that name wouldn't mean anything to a broader audience, I'm up for a name-game for whoever wants to play along – share your ideas in the comments!
This can be done with either pineapple or mango juice – I've tried it with both and it's yummy both ways.
Here's what you need:
Ingredients
Two parts ginger-infused vodka – for one drink, I use 1 1/2 oz (I made my own – not hard, but you need to plan for the time it takes to get enough flavor into the vodka – at least 3 – 4 days. It also helps to have a mandoline to make slicing the ginger easier. See * below for recipe.)
One part fresh pineapple juice (or mango nectar) – so 3/4 oz for my one-drink volume. This can be really good-quality store-bought pineapple juice, because who the heck wants to juice a pineapple? I use Lakewood Organic. It's expensive but worth it.
One part lemon-basil simple syrup (Again, I made my own – takes about 5 minutes of actual effort, and 30 minutes from start to finish. See ** below for recipe.)
Club soda, seltzer, or sparkling water to taste
Fresh basil leaves (rinsed & dried) for muddling, and small top basil sections for garnish
Other things to skewer for garnish: fresh pineapple (or mango) chunks, candied ginger. . . you could even do candied lemon peel or candied basil leaf if you wanted to get fancy
Cocktail shaker
Ice cubes
Instructions:
Fill the cocktail shaker halfway with ice. Pour in the vodka, juice, and simple syrup. Add a basil leaf.
Muddle another basil leaf in the bottom of a 10 -12oz glass and top with ice (basically just bruise it a little).
Shake the cocktail thoroughly in the shaker & strain into glass, leaving plenty of room to top with soda (start with one part – the rough equivalent of the amount of juice you used; more to taste)
Stir a little & top with basil segment and any skewered goodies you like, then serve.
Feel free to adjust the proportions in the recipe to suit your taste- I started with 1/2 part simple syrup, but found that upping it to one part added a little more oomph.
Gather Your Ingredients

Measuiring the Ginger-Infused Vodka

Measuring the Lemon-Basil Simple Syrup

Muddling the Basil

Muddled – Just Enough to Bruise It

Pour Shaken Vodka-Pineapple-Simple Syrup Mixture over Ice

Top with Soda & Stir Lightly

Garnish, & Voila!
The "Mocktail" Version:
(for a 12oz glass) Crush about 1 tsp fresh, peeled ginger & place in the bottom of a glass with a basil leaf; muddle together enough to bruise the basil
Add ice to the glass
Pour in 1 part each pineapple juice and lemon-basil simple syrup
Top with 2 parts club soda, seltzer or sparkling water; stir lightly (enough to bring up some of the ginger/basil flavor from the bottom) and garnish as desired.
Next: A "Caprese-tini"
Once I made the drink above, I started daydreaming about another, totally different one. During a radio show several years ago, I heard about a bartender who made a Bloody Mary using tomato water instead of tomato juice. The idea of tomato water had been stuck in my head as the basis for a drink ever since. If you LOVE the incredible taste of fresh tomatoes and have never tried tomato water, you're in for a treat. Making it takes a day – again about 5 minutes of effort, but you need the rest of the time for the magic to happen. Riffing on what I could do with the tomato water, since I'd just made ginger-infused vodka, I started playing in my head with another infusion that would "go." Poof – the idea of a Caprese salad in (mostly) liquid form struck me. Here's what I did:
Ingredients:
One part basil-infused vodka (*** see recipe below- allow 2 + days for the infusion to "take")
2 – 3 parts fresh tomato water (**** see recipe below – allow a full day)
Kosher or sea salt & freshly ground pepper, combined (for rimming the glass)
Fresh cherry or grape tomatoes for garnish
Fresh ciliegine-size mozzarella balls (about 1″) for garnish
Fresh basil leaves and/or tops for garnish
Balsamic reduction (or, if you don't have it, you can use good balsamic vinegar, but the stickiness of the reduction helps in this case)
Good quality extra-virgin olive oil
Small wooden skewers for the garnish
(Basically nearly the same ingredients list as for a caprese salad. Plus the vodka and tomato water. . .)
Instructions:
Put together the garnish(es) – alternately threading folded basil leaves, mozzarella balls, and tomato onto skewers (I do 2 mozz to one tomato)
Pour a circle of olive oil about the size of the top of your (12oz-ish) glass onto a plate. Top with a circle of balsamic reduction.
Pour the salt/pepper mixture onto a separate plate (or into a bowl)
Rim glass(es) by dipping into the olive oil/balsamic mixture, then into the salt & pepper mixture
Carefully fill glasses with ice (I go about halfway)
Pour in 1 – 2 oz basil-infused vodka & top with 2 – 3 times as much tomato water; stir gently
Drizzle a tiny bit of olive oil on top (maybe 1/4 – 1/2 teaspoon)
Garnish with a basil top or skewers
This drink tastes, as my husband said, "like a garden in a glass."
Gather Ingredients

Dip Glass in Olive Oil-Balsamic Reduction

Then Dip in Salt & Pepper Mixture

Rimmed Glass, Filled Halfway with Ice

Measuring the Basil-Infused Vodka

The Finished Product
The "Mocktail" Version:
Rim an 8 oz glass, as above
Muddle a few pieces of fresh basil in the bottom the glass (3 – 4 leaves)
Top with ice
Pour over 6 oz tomato water
Drizzle with olive oil & maybe even a little of the balsamic reduction, but just a little
Garnish as desired
Bottoms up, and Happy Solstice!!
___________________________________________________________
* Ginger-Infused Vodka
1 liter of vodka
1 large fresh ginger root, scrubbed and trimmed of any yucky parts – no need to peel in my book.
Directions:
Slice the ginger lengthwise on the thinnest-possible setting of a mandoline, or, if you don't have a mandoline, slice it as thinly as possible crosswise, until you have about 1 1/2 cups of ginger.
Submerge the ginger in the vodka in a large glass measuring cup or other container with a wide-enough top to make tasting, and later, removing the ginger, easy.
Cover the container with plastic wrap and set it out of the way for at least 3 days. I took little tastes starting at the two-day mark. It will probably have a slightly pinkish hue.
When it gets to the flavor you like, remove the ginger and strain the vodka into a large Bell jar or other container.
I store it in the fridge – pretty sure it'll keep for as long as it takes me to use it.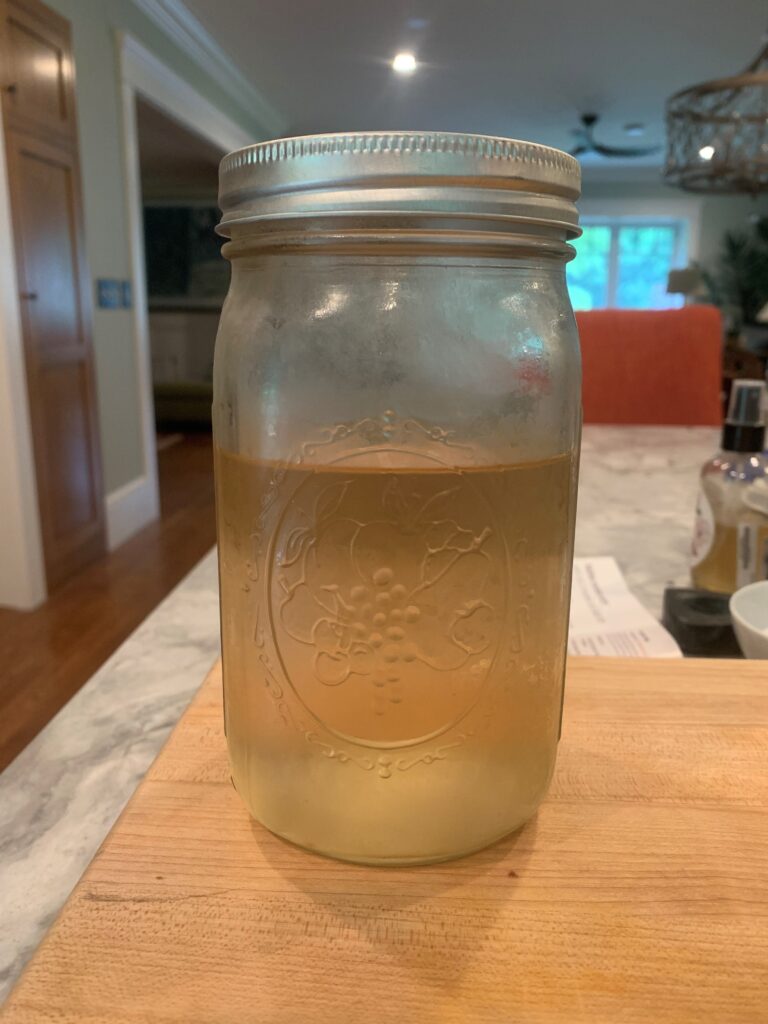 **Lemon-Basil Simple Syrup
1 cup fresh lemon juice
1 cup sugar
About 6 – 8 good-size sprigs of fresh basil, plus another 4 or so, to be used separately.
Directions:
Trim the zest off the lemon(s): really important that none of the white "pith" is on it. I use a vegetable peeler – this is a case where you want large pieces because you have to fish them out later. Any pith, or leaving the peel in the syrup, will make it bitter.
Then, roll the peeled lemon around on a hard surface, pressing down with your hand – this makes extracting more juice easier. Juice the lemon(s).
Combine the lemon juice and sugar in a pot that's large enough to accommodate at least twice the volume of the amount of syrup you're making – once it starts to boil, it tends to froth up, and you don't want it spilling over. Horrible mess.
Stir to combine and bring to a boil, watching carefully that it doesn't boil over – turn the heat down slightly if it threatens, but keep it boiling for 1 minute. While you're boiling it, add the basil.
After a minute, take it off the heat and add the lemon zest.
Let it cool for about 15 minutes, then remove the basil. Now add the other few sprigs you kept aside earlier. Push them down to let the syrup cover them, then let the whole thing sit another 10 – 15 minutes.
Remove the lemon zest and the basil and pour the syrup into a jar with a tight-fitting lid (I use good old Bell jars). This will keep in the fridge for at least a month, if it doesn't get used up before that. It would be amazing in homemade lemonade or on waffles or pancakes topped with blackberries. OMG. . .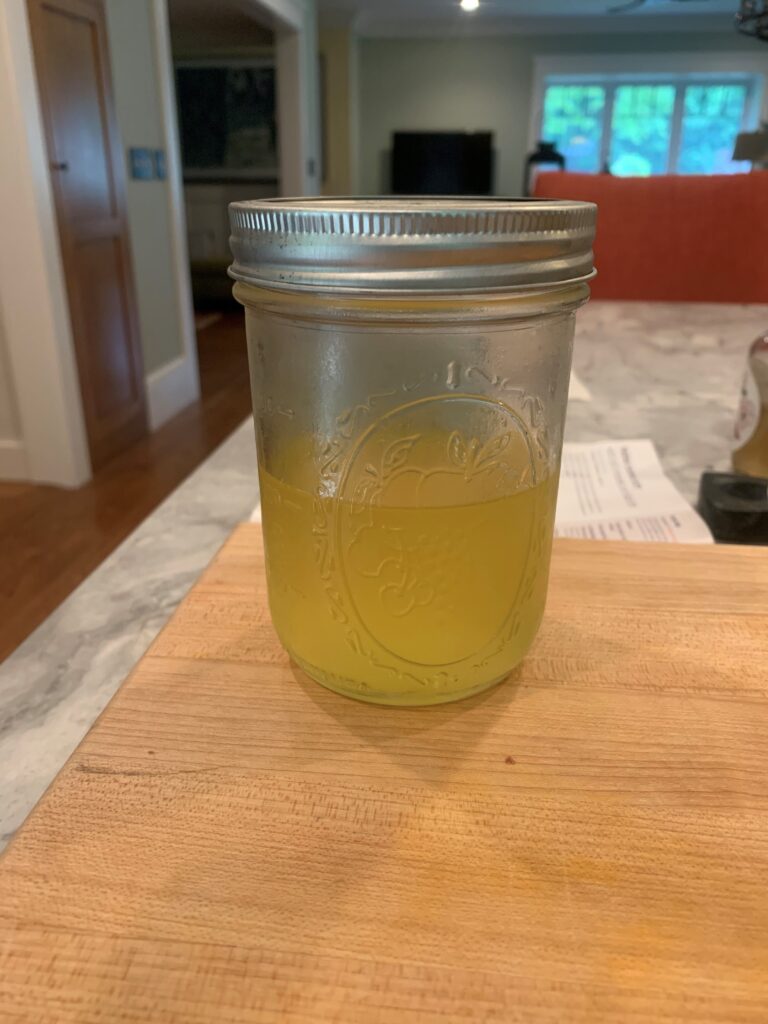 ***Basil-Infused Vodka
750 ml vodka
Small bunch fresh basil (appx 1 1/2 – 2 c – including leaves and stems) rinsed and thoroughly dried; stem ends trimmed
Directions:
Put basil in a wide-mouthed glass container
Pour vodka over basil, taking care to keep basil fully submerged
Cover with plastic wrap and a towel to keep light out
Set aside for at least 2 days, but probably no more than 3 – taste along the way for a flavor strength you like
Once you've reached your desired flavor depth, pour vodka through a fine-mesh strainer & funnel into a glass container.
Cap tightly & store in the refrigerator. The color and flavor will start to oxidize and turn darker after a week or so, but initially, it should be a beautiful, emerald green.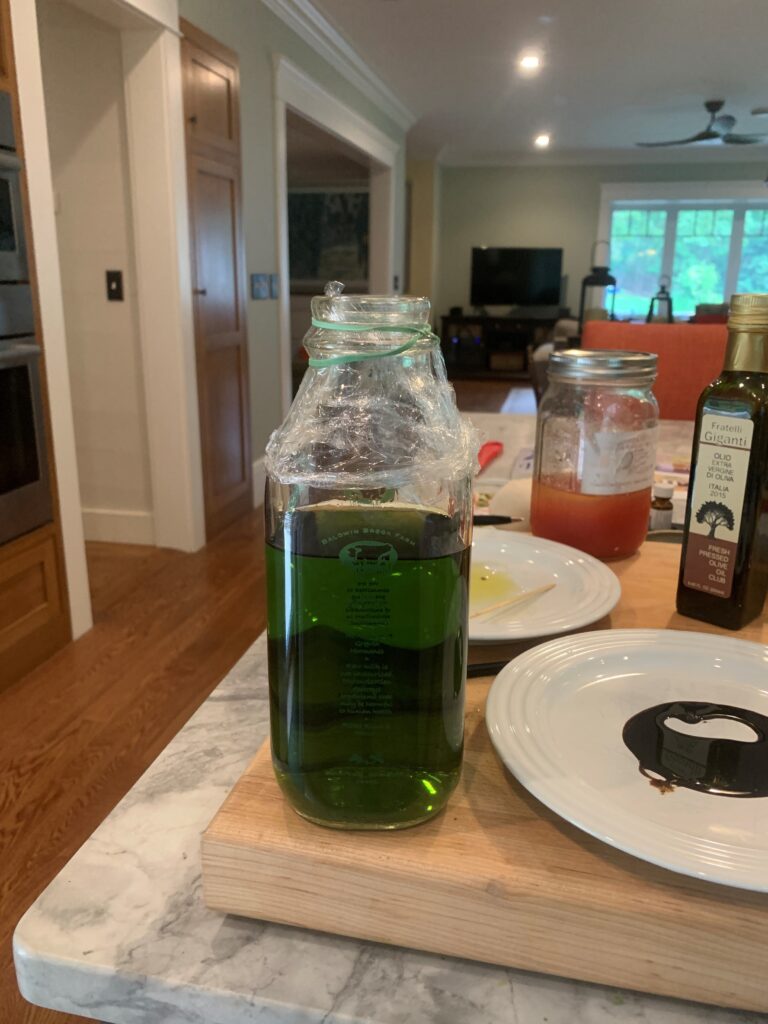 ****Tomato Water
4 lbs fresh, juicy tomatoes – I would NOT use plum tomatoes for this one – you want these to be more liquid-y than fleshy to yield more juice
1 teaspoon (give or take) sea salt
A blender or food processor
A strainer large enough to hold all the puree from that many tomatoes
A bowl large enough to sit under said strainer
Coffee filters cut to line the strainer in a single(ish) layer
Enough room in the fridge for the strainer set over the bowl
Directions:
Put tomatoes & salt in a blender or food processor and puree until smooth
Pour puree into strainer lined with cut-up coffee filters, set over a large bowl
Put in fridge for a day or so – start with overnight, then, in the morning, and a few times throughout the next day, give the mixture a stir, pushing the liquid down
Resulting tomato water will be clear, likely with a slightly golden tint, and will taste exactly like amazingly fresh, beautiful tomatoes. Pour into a jar or bottle with a tight-fitting lid and store in the fridge. Enjoy!!!