Both of my parents have dementia. If you've been reading my blog, you already know that. When I share that with people, I've gotten used to a variety of responses. The one that really gets me, though, is some variation of, "Oh. I'm so sorry. That's so sad."
Ugh.
I know people mean well. I really do. However, I really think we need to consciously consider why we respond that way. What I'm about to say will probably push some buttons, but I want to make people stop and think. Sorry. Not sorry.
What's Really Sad
With a huge disclaimer for all who are exactly the opposite of this – because there are thousands upon thousands of you – here, in my opinion, is what's sad: it's sad that we are so very bad, as a culture, at the inevitability of death. It's sad that we are so self-absorbed that we don't know how to handle it when someone begins to forget who we are. It's sad that, as a result, we have such a hard time just BEING THERE for our loved ones, regardless of whether they remember who we are or not (and by "BEING THERE," I don't necessarily mean in person. I mean emotionally. On the phone. Via Skype. Whatever. Physical presence is awesome, but not always possible).
It's sad that it's easier to not spend time with them and face that the person we knew is slipping away, when, in reality, they always were going to slip away, one way or another, whether slowly through some illness, or suddenly through a less-complicated death. It's sad that so many families choose to deny the signs of this group of conditions, letting their own fears and insecurities rule, and it's sad that its sufferers are often too proud or scared to admit when they start to experience symptoms, refusing help, as if the condition is some evidence of weakness, exacerbated by all the other factors I've already mentioned. It's sad that we still don't embrace the importance of living our lives with enough meaning that we freak out, in ways small and large, at reminders of our mortality.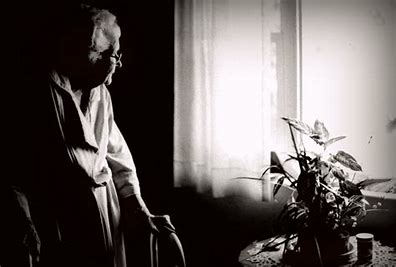 Allowing Positive Possibilities
These conditions are fraught with emotion – for sufferers, for loved ones, and for caregivers. I'm not saying we aren't allowed to ever be sad, or to ever mourn the loss of that person – what once was, or maybe what never was, but we wish had been. God knows that practically every negative emotion imaginable will rear its head as the condition progresses: frustration, anger, worry, stress, fear, impatience, guilt, resentment – the possibilities are seemingly endless. The possibilities for positive emotions are there, too, but they only happen with engagement. And they only evaporate if we choose to let them.
Don't Lose Out
There is no cure for Alzheimers and various forms of dementia (at least not yet), but, to me, that's not the sad part. What's sad is that there seems, for so many, to be no cure for what, in the end, really just makes it all about us, and our own fear of the idea that we might be forgotten by Mom, or Dad, or Grandma, or Auntie Em. And when we let that fear rule our actions and eclipse our better angels, we lose the opportunity to experience the joy of a smile, a laugh, or a hug, even if it's with someone who is becoming, or already is, a stranger.