It's only been three years in the making. . .
I am delighted to introduce my book, Zen (and Rage) and the Art of a Never-Ending Home Renovation. After three years of work, I'm also "as nervous as a cat in a bag." (Idiom courtesy of an old friend!)
We are targeting publication for next week. More on that below.
Not just a renovation survival story
For those who are into home renovation, as you might expect, it's the story of our path: foundation to landscaping. Warts and all.
For those interested in sustainable building, you'll see the steps we took to ensure we'd meet Passive House certification.
But just as much, this is the story of how I learned to manage the psychological roller coaster of this project. It's a glimpse into using, and taming, the voices in my head over a grindingly arduous timeline. It's about trust, and managing expectations: of the project, of my husband, and of myself.
And how that would very likely not have been the case if not for "a little help from our friends."
A bonus for readers: it's a relatively quick read! (The irony isn't lost on me: three years of work, thousands of edits, and it ended up at 168 pages?!)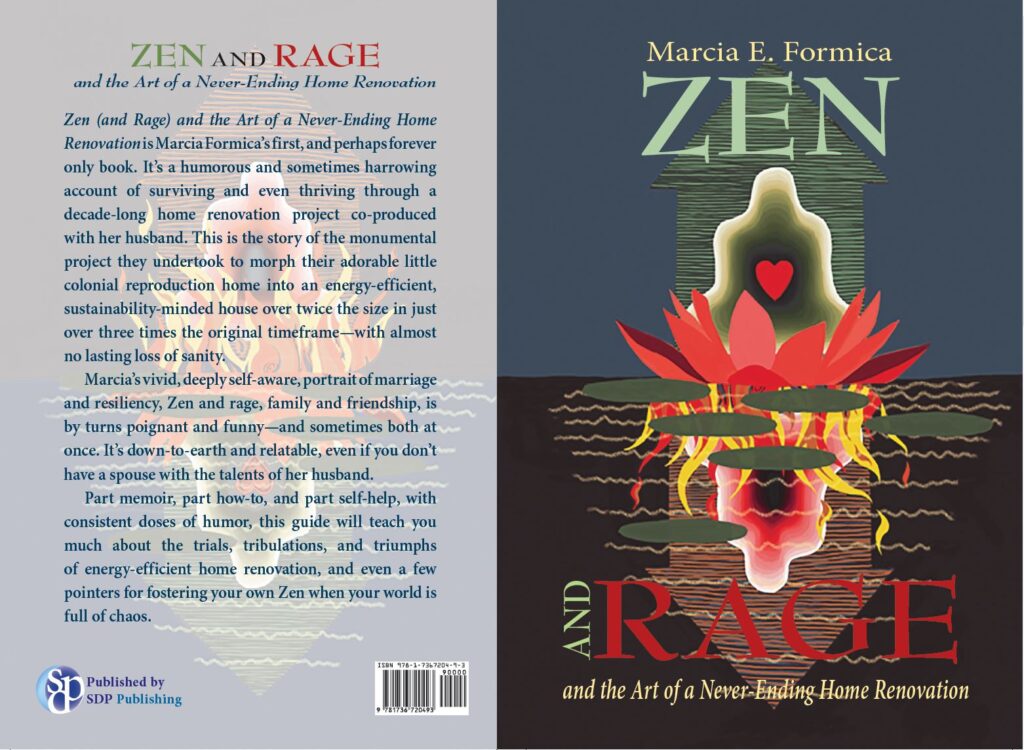 Details, details
As you might imagine, and as with any project, loose ends litter the homestretch. Putting finishing touches on the press release. Finalizing the website, a series of projects inside of projects; waiting for things to happen that trigger doing other things. Checking, every day, to see when the book shows up for sale on Barnes & Noble and Amazon so potential readers won't get frustrated if they can't find it when they search. (It's not there yet.) Waiting for the publisher to get the info they need so they can send me the links I can then share with the web designer. Endless tweaking of the photo albums, captioning, and content that are a part of the website. Waiting for the physical book proof to arrive to be 100% certain there are no glaring issues.
Will it all be perfect? Probably not. Is anything ever? The subject of the book is the perfect illustration of that notion.
Want a copy?
For now, if you'd like to get your hands on a copy, message me. Via my blog, on my Fire Over Fifty Facebook page, Instagram, Twitter, LinkedIn, email, wherever you prefer. My publisher will likely be able to offer it for sale a bit ahead of the larger sellers, so as soon as I have that link, I will send it to anyone who's interested.
It will be available as an ebook on Barnes & Noble and Amazon as well, but that may lag the print version by a couple of weeks. I will respond when I see your message, so you know I've seen it. If you don't hear from me, try again.
Barring any unforeseen issues with printing (insert crossed-fingers emoji), we are targeting a December 21 publication date. However, we unfortunately cannot control things that may affect the printing process, and therefore, real-world timing, such as staffing.
If you would prefer to give your business to a local bookseller in your area, stay tuned. I'll post again when it's available for wholesale, and they should be able to contact their distributor to order it.